Reunion Committee

55th REUNION COMMITTEE
Our first Reunion meeting at Vince and Bonnie Concialdi's home and we celebrated Judy Hanson Dillard's birthday besides getting the ball rolling for another fabulous Reunion! Date now set for September 16, 2017 at The Grand Event Center in Long Beach, where we had our 50th!
Standing: Dwight George, Steve Gray, Diane Curry Brewer, Wendell Jackson, Jan DuFau Stupin, Sandy George, Bonnie Benson Concialdi, Sally Buma Newman, Gladys Butts Cole. Sitting: Bill Porter, James Dillard, Judy Hanson Dillard, and their granddaughter. Unable to attend: Dennis Ashley, Richard Beard, Sherry Leake Varga.
The 51st Reunion Picnic Committee
Jan Stupin, Diane Brewer, Bill Porter, Rich & Barbara Beard, Dwight George, Sue Ross, Bonnie Concialdi
Joe and Karen Blaylock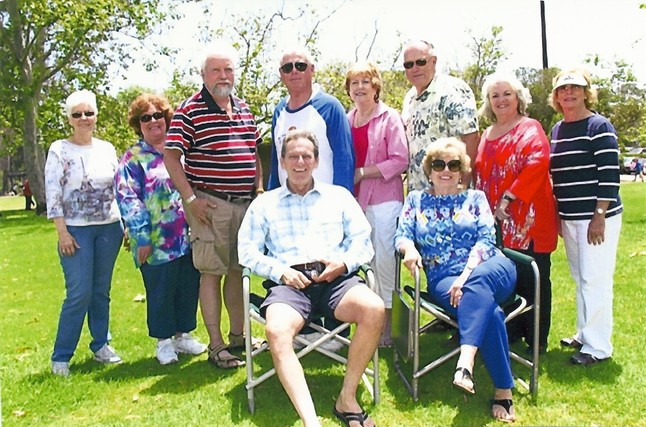 June 23, 2013 Meeting at Huntington Beach Central Park - Planning our picnic and 51st Reunion!!!
The 50th Reunion Committee:
Vince Concialdi, Dwight George, Sandy George, Bill Porter, Bonnie Concialdi, Jan Stupin, Judy Dillard, Betty Harvey, Sally Newman, Judy Leavell, Richard and Barbara Beard, Sue Ross (left to right standing) Mike Cairns, Karen and Joe Blaylock, Diane Brewer, Donna Tallmedge, Dennis Ashley (left to right kneeling)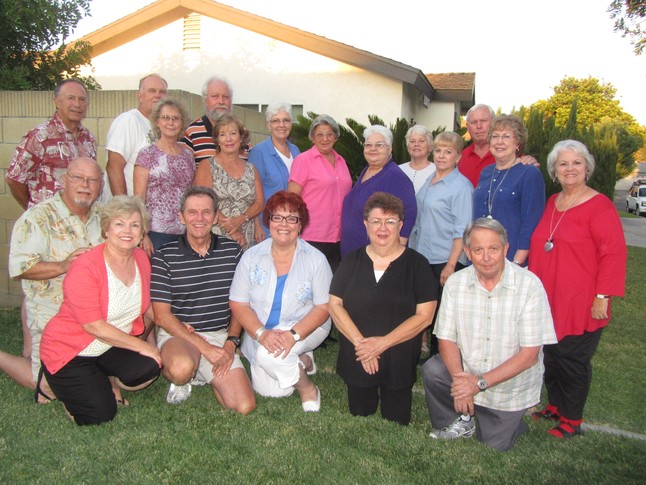 August Meeting at Dwight and Sandy George's house...18 in attendance and others on vacation.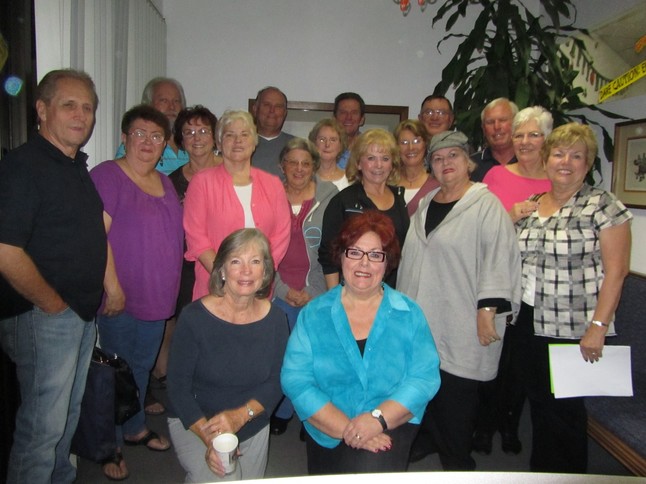 Front Row: Bonnie Benson Concialdi and Diane Curry Brewer
Middle Row: Pug Brewer, Donna Folwell Talmadge, Elaine Butts Coles, Sally Buma Newman, Judy Hanson Dillard, Sandy George, Judy Clarkson Leavell, ?, Sue King Ross, Jan Dufau Stupin, Karen McCoulough Blaylock
Back Row: Bill Porter, Dwight George, Joe Blaylock, Marvin Holm and Richard Beard